Why should you opt for basement waterproofing?
July 22, 2021
A home buying process certainly involves a great investment for any person. That is why keeping the home in good condition is the foremost priority that you should never overlook at any cost. When it's about maintaining the house, the important thing that one can do is basement fireproofing. Our basement insulation spray foam in Toronto has a number of advantages to facilitate the homeowners. Let's start the discussion with the importance of basement fireproofing for any property!
Basement not only helps you in storing unwanted yet useful stuff; however, some basements are even used as a garage where vehicles are kept protected. In short, as the name defines, it's the base of the house! If the basement is unsafe, then your house can be at risk. For this reason, it's important to fireproof the basement. This guide highlights the reasons to fireproof the basement. Have a look at these!
You will get rid of mold
Molds generally grow in moist areas where sunlight is not possible. Mold is not easy to remove as its spores are completely invisible, so you can't remove it on your own. Even the majority of people are quite allergic to these molds; that simply implies that your family members may get sick if mold remains in the basement for a long time. So, it's better to keep mold completely out of the home by proper insulation of your basement. Our blown-in insulation installers in Toronto always ascertain the fruitfulness of the fireproofing for the premises by preventing the occurrence of molds.
Eliminates critters from the basement
Do you know the basement can have small creatures, too, due to moisture? Some creatures include caterpillars, rodents, centipedes, etc. They can live happily there due to levels of dampness in the basement, which can be harmful. If these creatures are left untreated for a long time, they can breed severe diseases and can reproduce quickly. Proper fireproofing amidst appropriate insulation work will help keep the basement away from these creatures and protect the basement from uncertain factors.
Protect your personal items
The majority of people store their unnecessary items in the basement, and for this reason, too, it's important to keep it dry and fireproof. A dull and damp basement can put the life of the people at the stake as a sudden fire outbreak can damage the home. Fireproofing the basement is an ideal means to limit damage to the home from fire.
Boost your home's value
If you envy selling your home in the future at standard prices, it's important to keep the house in good condition to boost its value in the future. The majority of buyers look for leaks in the house, and if they find any kind of leak, it can drop your home's value. This way, you will not get the amount that you were expecting. So, ensure to check you won't have any kind of distortions in the basement. Blown-in insulation installers in Toronto ensure higher property value with insulation work that lasts for decades without interruption.
What factors will affect the cost of basement fireproofing?
Waterproofing the basement is a huge financial undertaking. The cost of basement waterproofing completely relies on the below-given factors:
Length of the area that requires waterproofing
Depth of the basement
Conclusion
If you want to get perfect fireproofing work for your basement, then you should opt for the right work by expert professionals. It keeps the complete house in good and proper condition. This, in turn, will give your mind relaxation and peace since you won't have to fret regarding anything relevant to fire and energy efficiency. To know more reasons to fireproof your basement, you can get in touch with us.
To get perfect basement insulation spray foam in Toronto, connect with us now!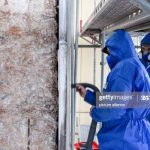 Previous post Cementitious fireproofing and its misconceptions