How to save your utility bills in winters?
July 28, 2021
If you live in cold places like Mississauga and Toronto, then you must be dealing with high utility bills to keep your home warm.The reason is simple; an uninsulated home loses heat quickly. As a result, your heater runs for a long time, which adds cost to your utility bills. The best way to combat the utility bills is to get crawl space insulation done in your home.
Getting crawl space insulation done retains heat for a long time and makes your heater run less. Estimates show that households having crawl space insulation in Mississauga, Toronto save up to 20-25% on their utility bills.
What are the places which aid in heat loss?
There are many places in your home that aid in heat loss, the most common of them, are as follows:
Crawl spaces are the prime spot for heat loss; floors above crawl spaces are too cold. As a result, the heat from your floor, which is warm, flows to the upper floor through cracks and crevices present in crawl spaces. This leaves your floor getting cold.
Uninsulated Attic and attached uninsulated garages are also vulnerable places that help in heat loss from your home, in the same way as explained above.
Advantages of Crawl Space Insulation
Does retaining heat is the only benefit of crawl space insulation in Toronto, Mississauga? Obviously not, there are many more benefits which you can avail from crawl space insulation, these are mentioned below –
Once insulated, these crawl spaces not only retain heat in your room but also spread the heat in every other room of your home. Crawl spaces are the places that remain away from light for most of the time. Hence, if a little bit of moisture enters there, it will become the property of mice, molds, mildew, spore, dander, rodents etc.
This will make your crawl space produce a foul smell since it can spread warmth, in the same way, it can spread this foul smell to all your rooms, making it very unpleasant for you. If you don't want this to happen, then crawl space insulation is very important.
Which material should you select for crawl space insulation?
So far, you have read about the benefits of crawl space insulation, but which material should you choose to get the best out of your crawl space insulation?
Experts in Toronto, Mississauga, recommend spray foam to get your crawl space insulation done. Spray foam insulation provides you following advantages –
It is known to have the highest R-value among all insulating materials. Don't know R-value? R-value tells about the ability of a material to resist heat transfer. Hence, the higher the R-value, the greater its heat transfer resistance power, or greater will be its insulation property.
Along with being heat resistant, it also works as fire-resistant; hence, it saves your building during a fire hazard.
Spray foam insulation gets done quickly, as it is sprayed in the form of foam, which expands quickly. As a result, it fills the cracks and crevices in your crawl spaces in a short time.
Spray foam insulation is known to provide good resistance against molds, spores, danders, and rodents. It is also known to last longer than any other insulating material.
Who provides the best Crawl Space Insulation in Toronto, Mississauga?
While hiring your crawl space insulation contractor in Toronto, Mississauga, don't come into the trap of low fees. The spray jet used in spray foaming is challenging to handle, and low fees contractors are inexperienced. Hence you will get you a crawl space insulation with compromised finishing. It will not be long lasting, and the insulation is also not effective.
Instead, choose the company which has experience and trained professionals, so that you get your work done in quick time along with getting quality finishing.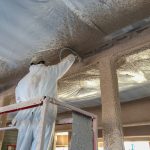 Previous post Why should you opt for basement waterproofing?